A Mattress is the Most Used Piece of Furniture in a Home

Our collection includes a variety of mattresses such as traditional spring coil, natural latex or a hybrid of both, handmade and organic options. We also offer a medical grade option, the Pure Energy Sleep System. We are highly educated about the mattresses we promote and take great pride in presenting products that provide for not only a comfortable sleeping environment, but a healthier one, too. We understand finding a great mattress that fits both your needs, and your budget, can feel overwhelming. Visit us in store – We would love to help you find a mattress you feel both comfortable falling asleep in and well rested when you wake.
Pure Energy

Realize your true potential

Clinically proven to offer the sleeper bona fide enhanced health benefits such as deeper sleep, less aches and pain, faster recovery, better circulation and increased oxygen to tissues. Registered Class I Medical Device with Health Canada, FDA, Australian Gov't, the EU and Japan. Made in BC with premium latex or a two-sided pocket coil sleep system.
Spring air

back supporter elite

The Spring Air Back Supporter Elite mattress represents the pinnacle of consistent comfort, support and quality. It's known to offer owners a superior center-support design that begins with a patent pending carbon neutral eco-friendly base. The center zoning delivers longer lasting back support, whether by high density coils or the body-contouring individually encased coil design. The Back Supporter Elite provides unmatched relief and an amazing night's sleep.
restonic

Your Better Sleep
Makers of the Marvelous Middle Mattress – 2 Sided Mattress for No Body Impressions!

The unique design of this mattress allows for increased cushioning with a smoother top and squared edges, which reduces pressure points and improves longevity.

Integrity Goes Into Their Mattresses.

Since 1938. Made in BC.
NovoPure
Certified Organic

Certified Organic Pure Latex Mattresses – Certifications by GOLS, GOTS and Oeka Tex 100 Standard. 100% Certified Pure & Natural Organic Dunlop Latex with 100% Certified Organic cotton cover. Available in Plush and Firm. Made in BC with only Certified Organics.

Blu Sleep

No More Back Pain

Made in Italy with Clean Manufacturing and European Ergonomics
Water Expanded Foams, Oeka Tex 100 Standard Rated (Babysafe).
Mattresses, toppers and pillows
bishop & mitchell

Handmade Natural Mattress
Discontinued for now

Queen - Wharfdale - Limited Availability

King - Sold Out
Luxury Hand Crafted, British Pocket Coil Mattresses hand made in the UK by Master Bed Makers.

Over 100 years of Traditional Craftsmanship using the Finest Natural Fillings, all natural ingredients, no foam or latex.

Family Bed Makers for over 178 years!

Compare to ViSpring or Hypnos Quality at a far far Better Price!
spring air-Breathe Collection
A Virus And Bacterial Reducing Mattress
Spring Air Breathe with Nano Shield Technology provides long-term and effective protection against unwanted bacteria, viruses, and odors.

Unique antimicrobial treatment that reduces all viruses by 98% within four hours of contact. Spring Air Breathe assures a safe and clean sleeping environment that will keep you and your family safe while resting.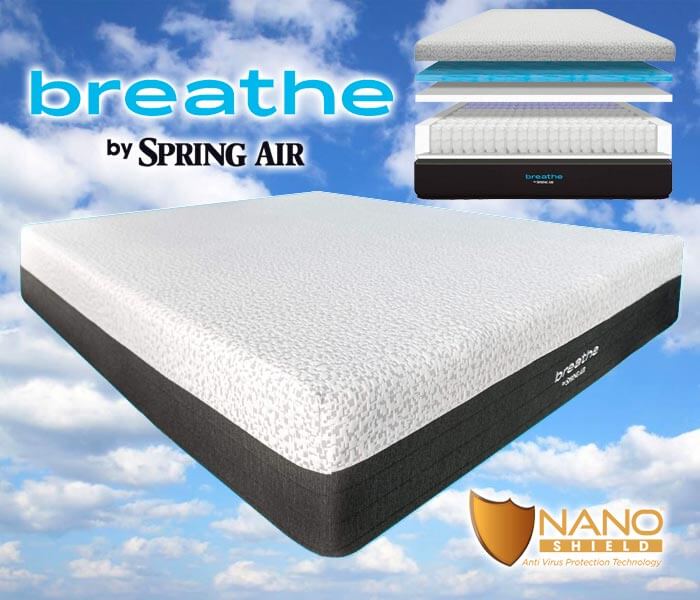 comfortflex

bed-in-a-box

ComfortFlex mattresses by Spring Air offer unbelievable comfort & quality in an easy to carry, easy to setup package. Unlike the competition, every ComfortFlex mattress is made in Canada, by a Canadian, with high-quality components. ComfortFlex mattresses are temper regulating, pressure reliving and very durable, making it a top bed-in-a-box brand!
Say No
to Body Impressions
Other mattress retailers sell one sided (not able to flip) spring coil mattresses made with cheap materials. Unfortunately, this defective design most often results in the dreaded, most uncomfortable, body impression (two ditches with a mountain in between). Not only is this occurrence terrible for your body, it will cost you more in the long run.

Invest in a quality mattress, sleep better.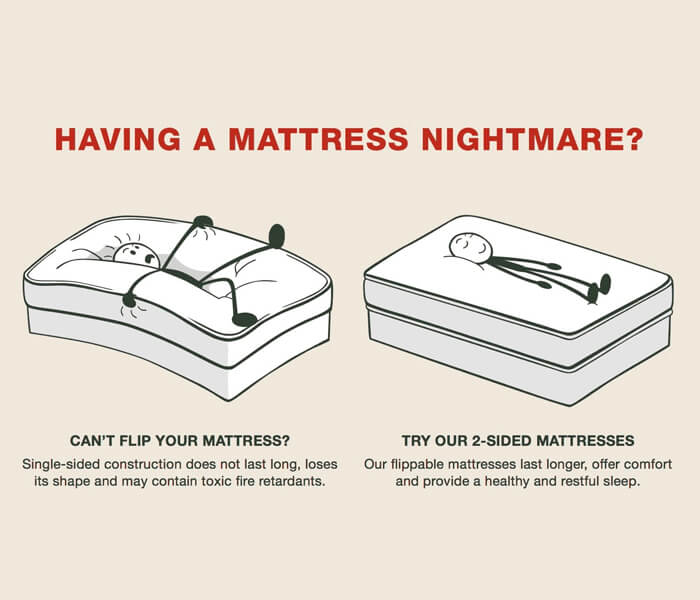 Lifestyle Adjustable Beds
Adjustable Beds
Lifestyle adjustable beds, formally suited to the elderly or the injured, are growing in popularity amongst all age groups. Imagine relieving a tweak in your lower back by a quick touch of a button, or sitting in the perfect position to watch TV or maybe with a laptop while working from home.

Everyone wants and deserves to be more comfortable in bed. Adjustable beds can be paired with almost any bedframe and many different mattresses. With options like massage, wall hugger technology and electronic friendly technology, experience the ultimate in home comfort.

At Sleepy's, we only present models that are made with superior motors. Okin motors offer good old German technology that is ultra-dependable. They are also the quietest motors in the industry!

Not all mattresses are adjustable friendly! Visit us in store to learn more about which mattresses work properly with an articulating base. We can even provide you with proper bed linens for this type of mattress.
Powered by AZEXO Shopify page builder