Pillows are Not One Size Fits All
There is a direct correlation between the pillow you lay your head on to sleep and how well rested you feel in the morning. It's no secret a good pillow is necessary for proper neck support. If you've got a lumpy, bumpy, must-fold-in-half pillow, it's time to look at an upgrade. Shop online or visit us in store – we would love to help you find the perfect pillow.
Protect-A-Bed
Mattress & Pillow Protectors
ProtectaBed is the originator of the mattress and pillow protector. Previously, we used quilted mattress pads, but they were lacking in true protection. Protection for the mattress and pillow was the goal, but what about protection for the sleeper's? A mattress will almost double in weight after 10 years of use due to the daily shedding of skin dust, body oils, and perspiration from each sleeper. The quilted pads stopped minor spills and body oils, but not larger spills or skin dust. Sleepers with allergies or asthma would still suffer through their night's sleep due to the skin dust, dust mites, and dust mite fecal deposits floating in the air after laying down on the mattress or pillow. By introducing a ProtectaBed protector to your sleeping surface you can breathe easier, even if you don't have any allergies or asthma.

ProtectaBed protectors stop all spills and skin dust from getting into your bedding using a breathable Miracle Membrane backing that is a four way stretch with different surfaces on the top side (Cotton Terry, Bamboo, Tencel, etc.) and a popular fitted sheet design. Easy to launder on a regular basis with your sheets and towels, they are easy care and they last. Mattress protectors come with a 10 year warranty and if purchased with a mattress, you also obtain an insurance policy in case the protector fails. Pillow protectors come with a 5 year warranty. Using a protector instead of a padding will ensure you keep your mattress or pillow warranty intact, as your warranty is null & void if there are any stains or signs of misuse.

Sleepy's offer a nice selection of ProtectaBed protectors to keep your family and mattresses safe!
Blu SleeP
Pillows & Bedding
Blu Sleep offer superior and luxurious sleep products with a conscience. State of the art pillow designs made in Italy with clean manufacturing. Most memory foam or gel pillows have off-gassing issues and are not at all healthy for the sleeper. Blu Sleep's pillows are Oeka-Tex Standard 100 rated which means that they are babysafe. No harmful chemicals and a special manufacturing process makes them a great fit for Sleepy's. We offer green, natural, and organic options in our store and Blu Sleep is front and centre.

Blu Sleep's high quality pillows, mattress protectors, luxurious Italian bed linens, and mattresses are some of Sleepy's best sellers. Their design, innovation, and sustainable practices are very important to us, plus they are a family owned Canadian supplier, just like our local family owned business.

Technology – Sleep Cool – Breathability – Water Expanded Foam – Adaptive Dynamic Support – Non Temperature Sensitive – Clean Manufacturing
Zucora Home (Pure Care)
Mattress & Pillow Protection
ZucoraHome is a Canadian company that offers superior PureCare mattress protectors and pillows. Featuring our flagship line of protectors and pillows that complement our Pure Energy mattresses utilizing a responsive textile called Celliant. Celliant is now deemed a Class I Registered Medical Device with Health Canada (also FDA, EU, Japan, and Australia) due to the health enhancing technology in these products. Sleepy's offer pillows, mattress protectors and pillow protectors in store and online.

PureCare provides bedding essentials that provide solutions focused on additional wellness, hygiene and comfort benefits to the sleeper.
Alamode home
Bedding
Alamode Bedding are a local supplier of affordable bed linens that help Sleepy's compete with the big box stores. Alamode offers a great selection of bed linens and accessories to compliment any room or budget. Order through Sleepy's and receive special discounts.

Duvet Covers – Sheet Sets – Blankets – Decorative Pillows – Duvets – Pillows – Bathrooom – Window Treatments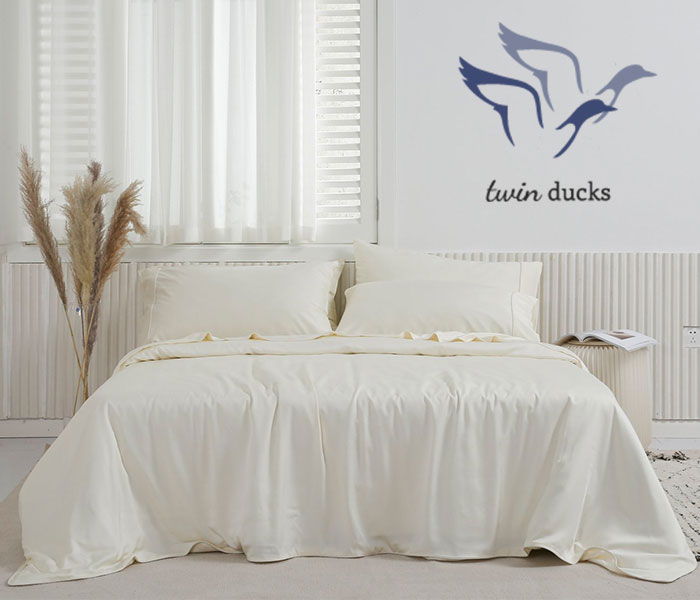 Twin Ducks
Bamboo Linens
Twin Ducks offer the best in sustainable bamboo bed linens. Sumptuous, temperature regulating and uber-comfortable bamboo sheets sets, fitted sheets, pillow cases, and duvet covers are what Sleepy's offer from Twin Ducks. Bamboo sheets are not created equal and there are different qualities available in the marketplace. Rest assured that Sleepy's have seen it all in their 4+ decades of being in business.

When bamboo is processed, the grass (wood) is very hard and dense and needs to be softened and broken down to make into a usable textile. Acid is used for this purpose and most bamboo sheets still have this acid left in their finished product making the fabric less durable. Twin Duck's sustainable manufacturing process has a 99.9% return rate on the acid used and allows them to keep re-using it and therefore it's better for the environment and makes for a more durable fabric and more luxurious feel. Sleepy's offer most sizes including adjustable bed options.

Don't get bamboozled – Come into Sleepy's for the Best in Bamboo Bedding and Sleep Well in Healthy Comfort.
Kouchini
Bedding Co-Ordinates
Kouchini Co-ordinates have been supplying Sleepy's with their European linens and organic bedding offerings for decades. We love their organic wool sleep products the best. If you haven't tried a pure wool duvet, then you are missing out! Kouchini offers a beautifully made organic wool duvet in a lightweight and the more popular all-season version that has so many benefits.

Why buy a new wool duvet? Because it is clinically proven to lower blood pressure and reduce heart rate while sleeping. Sleeping under down, feather, or synthetics create a humidity under the covers. They repel our moisture loss back onto us where wool wicks it away and keeps us dry and therapeutically warm. They don't breathe as well as wool, so they trap heat and moisture creating that humidity which then overheats you. Sleeping under wool offers so many positive health benefits to the sleeper. Warmer in Winter, cooler in Summer, wool acclimatizes to each sleeper, they are naturally anti-microbial so no dust mites or bacteria will live in it's environment, superior draping to the body, and is even machine washable.

We also offer Kouchini's organic wool knop pillows that are adjustable in firmness. Wool protectors, organic sheets, hotel style pillows, body pillows, and much more is offered at Sleepy's for the health and comfort of our customers.

At Sleepy's, we don't pull the wool over your eyes, so don't be sheepish and make your way in here to feel what could be yours.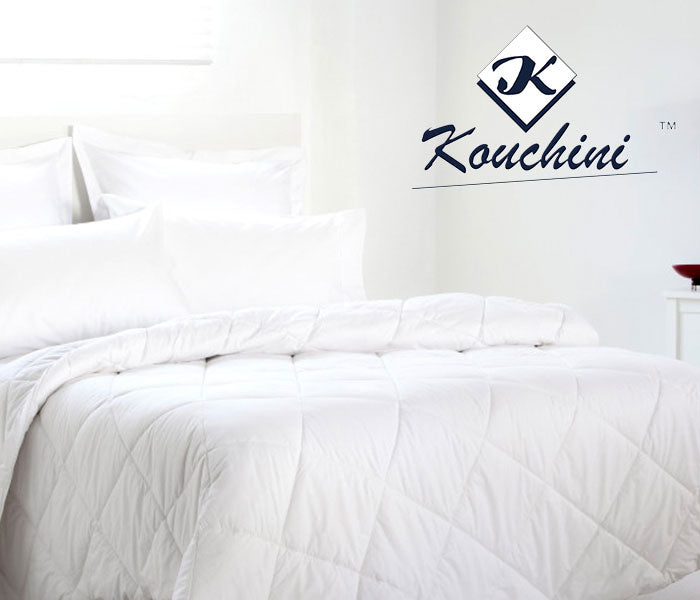 Spring Air
Hotel Pillows
Spring Air is known for their superior mattresses, but now they offer the same in pillows. These pillows are made in Canada and offer the best value in Hotel style quality.
SNUG SLEEP

HANDCRAFTED BEDDING

Snug Sleep is our choice for high quality natural and organic bedding options. Enhance your health and make the bedroom your sleep sanctuary. From luxurious handmade pure wool mattress toppers to sumptuous duvets and pillows, Snug Sleep is your natural choice. Snug Sleep's products are a great choice for people who are sensitive to synthetic materials or suffer from allergies.

Sleepy's love that you shop local and Snug Sleep is right up our alley (or more like just down the highway) as they hand make all of their beautiful products in North Vancouver. Overall, Snug Sleep is a brand that prioritizes the health and well-being of their customers and the planet. Their commitment to sustainability, quality, and customer satisfaction makes them a great choice for anyone looking for natural and eco-friendly sleep solutions.

Sleep Snug with Snug Sleep.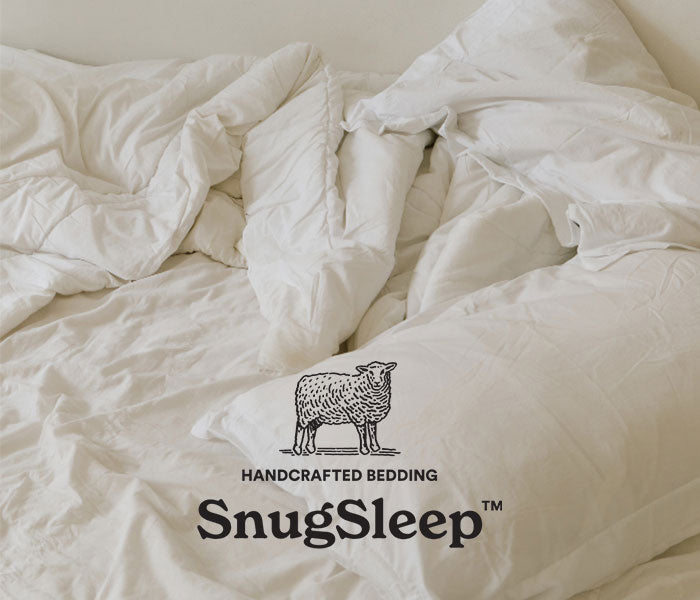 Powered by AZEXO Shopify page builder